With millions of tourists visiting the palace every year, the crowd that throngs the gates of Versailles are getting bigger every day. Different gates have been designated for people carrying individual tickets, skip the line tickets and guided tour groups - all this to reduce confusion amongst tourists and to manage thousands of tourists entering the palace more efficiently. The main entrance to the Palace of Versailles is through the Court of Honor (Cour d'Honneur). Upon entering the courtyard, there are 3 entrances to the Palace of Versailles you must be wary of.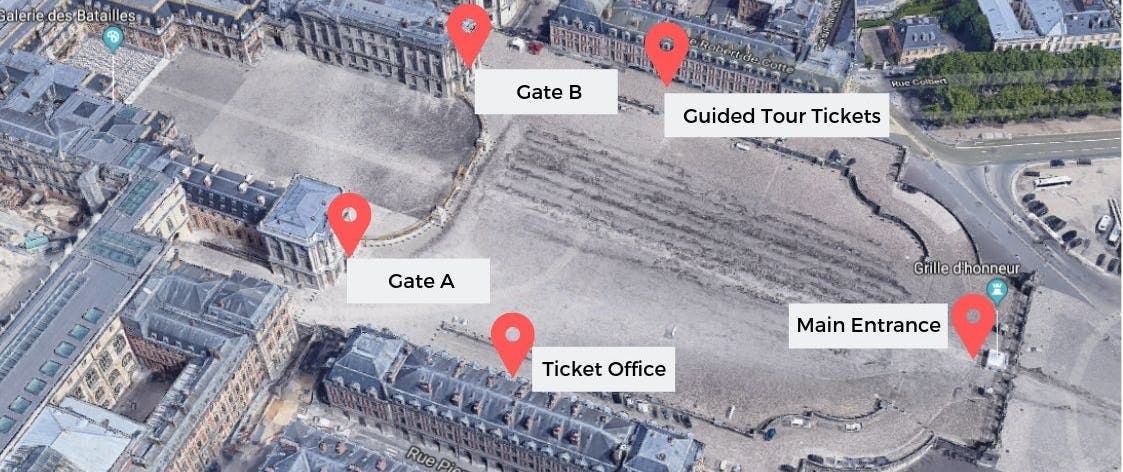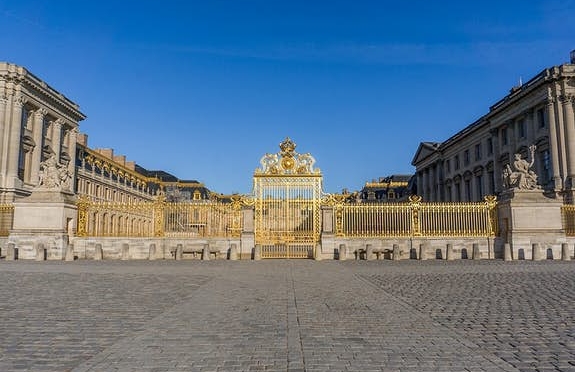 Ticket Offices
Once you enter the Versailles complex from the Gate of Honour, you enter the Court of Honor. Here, you will find the ticket offices for both standard entry tickets and guided tours of the palace.
Facing the palace while standing in the courtyard, standard admission ticket office can be found in the left wing while guided tour tickte offices are in the right wing.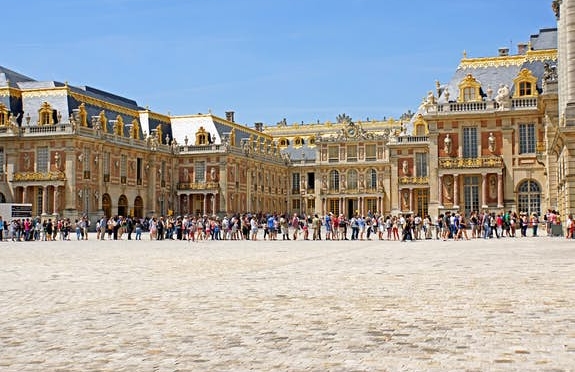 Main Entrance
The Gate of Honour (Grille d'honneur) marks the entrance to the Estate of Versailles. Restored in 2008, more than 200 years after being torn down during the French Revolution, the golden gate is a replica of the original 80m iron and gold leaf gate.
Intricate and beautiful like the palace it guards, the gate is covered with over 100,000 gold leaves that have been crafted into the shapes of fleur de lys, masks of Apollo, crowns and the crossed capital Ls referencing the Sun King.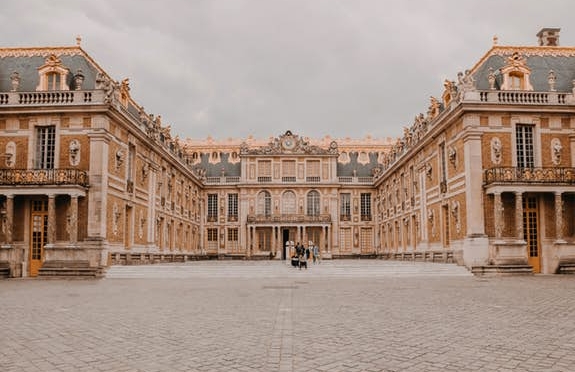 Palace Gates
Entrance A ( to the left )
This entrance is reserved for guests who have already purchased individual tickets online. For those who haven't, you will have to queue up at the ticket counter and then enter via Entrance A. Wait times at Entrance A are anywhere from 30 minutes to 2 hours.
Entrance B ( to the right)
This entrance is for groups with a reservation for a guided tour as well as those carrying skip the line tickets. Entrance B gives you much quicker access and has hardly any wait time
Palace Of Versailles Tickets