Water is an important element of French gardens, even more so than plant designs and groves. Over 50 grand water fountains can be found in the gardens of Versailles. Each fountain was designed and sculpted based on themes from Greco-Roman mythology.
Must-see highlights
The Four Seasons Fountains
The entrance to the Royal Way is marked by the monumental Four Fountains dedicated to the four seasons- The Spring Fountain and the Summer Fountain are to the north of the alleys, while the Autumn Fountain and the Winter Fountain are to the south. 
Fountains of the fight of the animals
Designed by Jules Hardouin-Mansart in 1687, the fountains demonstrate a fight between animals. To the north, the evening fountain depicts a lion defeating a wolf and wild boar. On the south side, the daybreak fountain depicts a tiger defeating a bear and fountain of a bloodhound bringing down a stag. Water jets spout out of the animal's mouths, with the jet of the victorious animal falling into the upper basin, while the jet of the defeated animals falls into the lower basin. 
Dragon fountain
A majestic piece of art, the Dragon fountain represents an episode from the legend of Apollo, where young Apollo shot and killed a serpent Python with an arrow.  This is the tallest fountain in the gardens of Versailles, with the main water jet reaching a height of 27 meters. 
Neptune fountain
Made between 1679 and 1682, the construction of the Neptune Fountain was overseen by André le Nôtre and officially opened by Louis XV .  Greatly admired for its size, the fountain is also an extraordinary hydraulic system featuring 99 jets
Latona's fountain
Latona's fountain illustrates the story of Latona, the mother of Apollo, protecting her children from the insults of the peasants and pleading with the gods to avenge her. The gods oblige and the peasants are turned into frogs and lizards. The fountain features six figures of peasants in mid-transformation, with 24 frogs surrounding the fountain. 
Apollo's fountain
Built between 1668- 1670, the fountain is based on the legend of Apollo, the sun god. Designed by Charles Le Brun, It features Apollo rising from the sea on a four-horse chariot, surrounded by tritons and leaping dolphins. 
Musical Fountains Show Days
- Every Saturday and Sunday from April 4th to November 1st 2020 
- Every Tuesday from May 19th to June 23rd 2020
- Additional dates (April 10th, May 8th and 21st, July 14th 2020)
Musical Fountains Show Timings
Weekends and public holidays:
1. Historical Water Displays : 11 am to 12 pm, and from 3.30 pm to 5 pm 
2. Mirror Pool : Water display every 10 minutes from 10 am to 7 pm
3. Water Theater Grove : Water display every 15 minutes from 10 am to 7 pm
4. Neptune Fountain : Water display every 15 minutes from 10 am to 5 pm, and then from 5.45 pm to 6:45 pm. 
5. The finale of the show at the Neptune Fountain takes place from 5.20 pm to 5.30 pm
Tuesdays and Friday April 10th 2020 :
1. Historical Water Displays : Water display between 11 am to 12 pm, and then from 2.30 pm to 4 pm 
2. Mirror Pool: Water display every 10 minutes from 10 am to 7 pm
3. Water Theater Grove: Water display every 15 minutes from 10 am to 7 pm
4. Neptune Fountain: Water display every 15 minutes from 10 am to 7 pm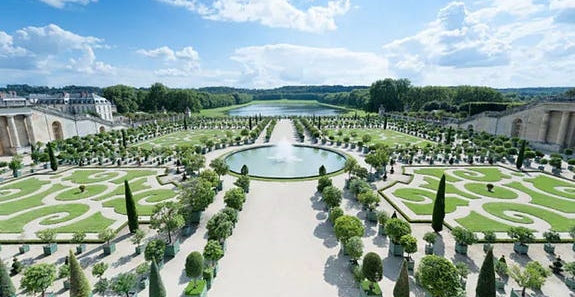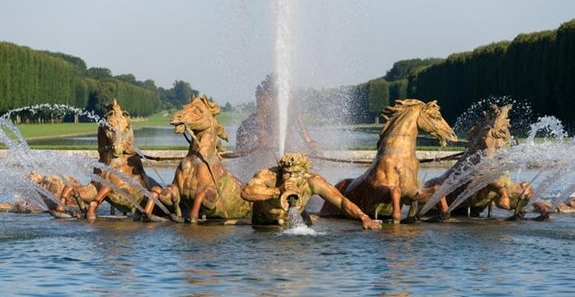 Palace Of Versailles Tickets