Everything You Need To Know About Versailles
Contents
Versailles, a magnificent palace-turned-museum, is a legendary symbol of luxury and history in Paris, France. Built in the 17th century as a royal residence, it played a pivotal role in shaping French politics and culture. Today, it enraptures visitors with its stunning architecture, lush gardens, and extensive art collection. Inside, you'll find remarkable works of art, including masterpieces by renowned artists like Jacques-Louis David and Jean-Antoine Houdon. Marvel at the Hall of Mirrors, witness the grandeur of the royal apartments, and explore the vast collection of paintings, sculptures, and decorative arts. A must-visit destination for any history and art enthusiast and should be on your Paris itinerary!
Quick Facts About Versailles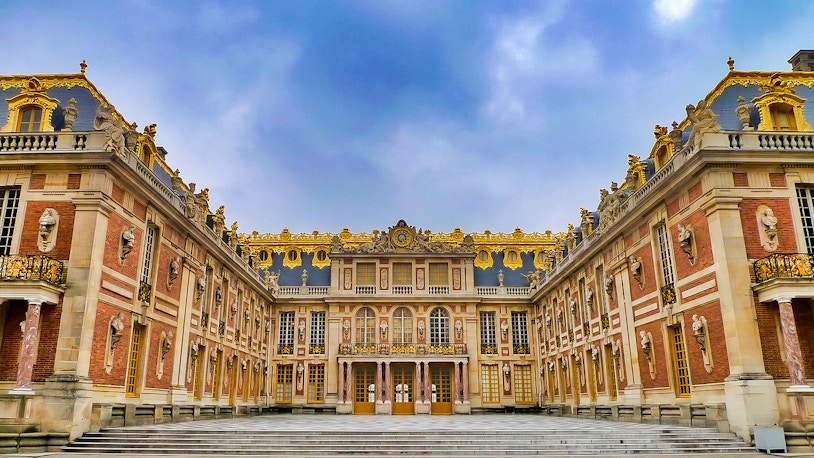 Official name: Palace of Versailles
Address: Place d'Armes, 78000 Versailles, France
Date of opening: Opened as a museum in 1837
Timings: 9 AM to 6:30 PM (Tuesday to Sunday for Palace); 10 AM to 6:30 PM (Tuesday to Sunday for Estate of Trianon); 8 AM to 8:30 PM (for gardens) and 7 AM to 8:30 PM (for Park)
Architect: Louis Le Vau (first architect) and Jules Hardouin-Mansart (enlargement of the Palace)
Architectural style: Classicalism and Baroque
UNESCO World Heritage Site: Yes
Number of visitors per year: Approximately 7-8 million per year.
Collection size: Over 60,000 pieces of artwork
Plan Your Visit To Versailles
What are Versailles' timings?
Where is Versailles located?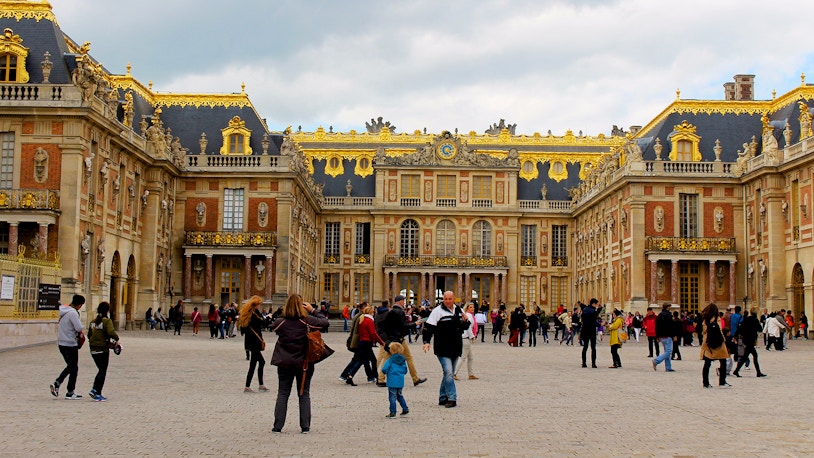 Opening hours:
The Palace is open from 9 AM to 6:30 PM
The Estate of Trianon is open from 10 AM to 6:30 PM
The Gallery of Coaches and the Sculptures and Moulding Gallery are open from 12:30 PM to 6:30 PM
The Estate of Marly is open from 7 AM to 7:30 PM
The Gardens are open from 8 AM to 8:30 PM
The Park is open from 7 AM to 8:30 PM
Closed on:
The Palace and Estate of Trianon is closed on Monday
The Gallery of Coaches and Sculptures and Mouldings Gallery is closed from Monday to Friday
The Gardens and the Park are only closed when snow, violent winds, or other exceptional weather circumstances exist.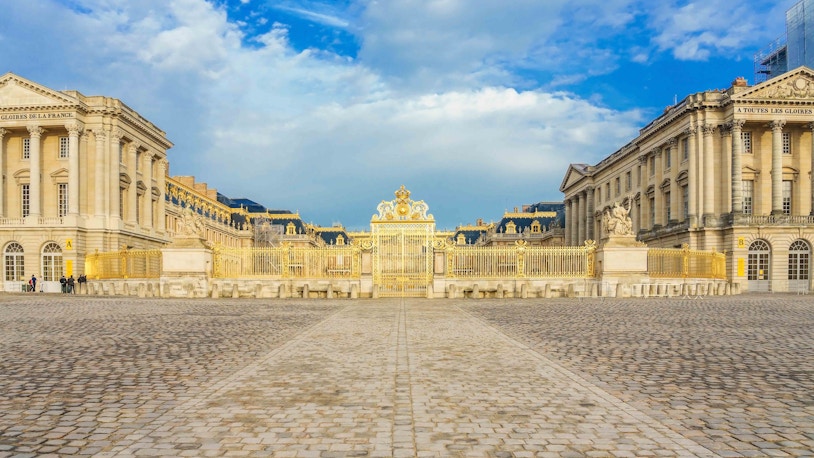 Address: Place d'Armes, 78000 Versailles, France
Versailles is situated in Île-de-France, France, with the Palace of Versailles itself encompassing the Place d'Armes, which is the large courtyard in front of the main entrance. Its strategic location makes it easily accessible for visitors from the capital and beyond.
Closest landmark: Galerie des Batailles (190 m)
Overview of the Collection at Versailles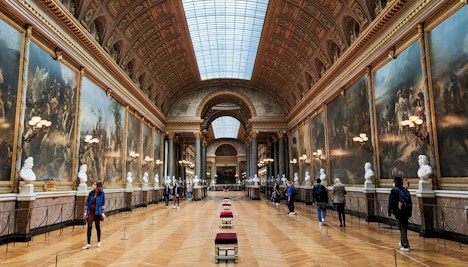 Paintings
The museum boasts a diverse collection of paintings showcasing historical and mythological themes. Admire masterpieces by notable artists such as Jacques-Louis David, capturing pivotal moments in French history. The rich array of portraits also includes works by Hyacinthe Rigaud and Élisabeth Vigée Le Brun.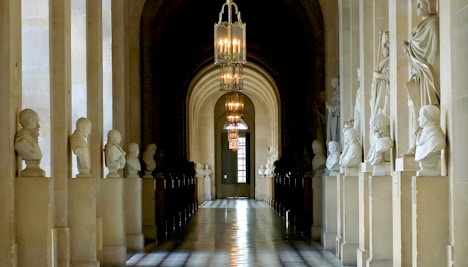 Sculptures
Versailles houses an exquisite array of sculptures, adding a three-dimensional charm to the museum. Be awe-inspired by neoclassical wonders crafted by Jean-Antoine Houdon, and marvel at the intricate details of marble sculptures adorning the Palace's grand salons.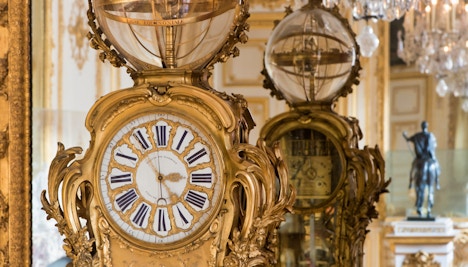 Decorative Arts
Experience the luxury of Versailles through its exquisite decorative arts collection. Ornate furniture, intricate tapestries, and luxurious porcelain reveal the lavish tastes of French royalty. Discover the finest Sèvres porcelain and the iconic furniture designed by André-Charles Boulle.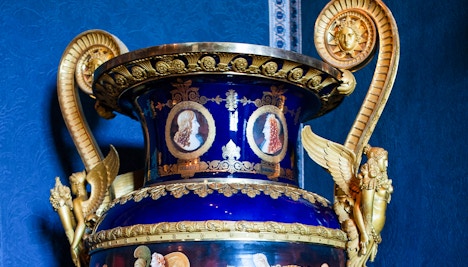 Ceramics
Explore a treasure trove of ceramic wonders, showcasing the skills of renowned potters from the past. The collection includes dazzling vases, intricate dinnerware, and charming figurines reflecting the artistic elegance of bygone eras.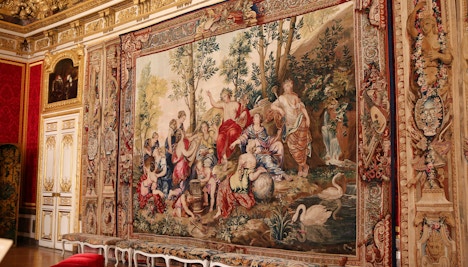 Textiles
The museum's textile collection features an impressive array of royal garments and tapestries. Gaze upon sumptuous ceremonial robes and silk textiles, which once adorned the French monarchs, and immerse yourself in the splendor of the past.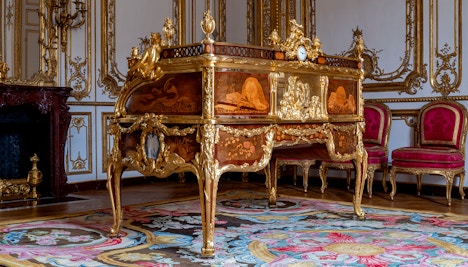 Historical Artifacts
Discover fascinating artifacts illuminating life in the Court of Versailles. Delve into the personal belongings of Marie Antoinette and Louis XVI, as well as diplomatic gifts and royal souvenirs, offering intriguing glimpses into their extraordinary lives.
Must-See Highlights At Versailles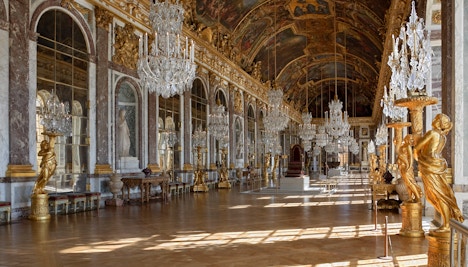 Hall of Mirrors
The grandeur of Versailles unfolds in the iconic Hall of Mirrors. Marvel at 17 mirrored arches reflecting opulent chandeliers and elaborate ceiling paintings. This magnificent space witnessed historic treaties and lavish celebrations, offering a glimpse into the Palace's rich past.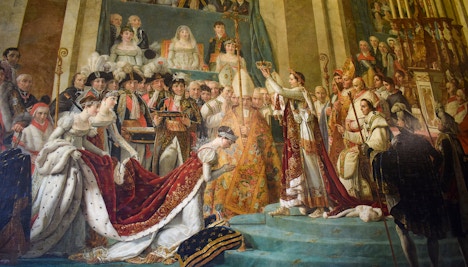 The Coronation of Napoleon by Jacques-Louis David
Admire the historical masterpiece by Jacques-Louis David, depicting Napoleon's coronation as Emperor of the French in 1804. The regal scene, rich in symbolism, portrays the majesty and power of the French monarchy.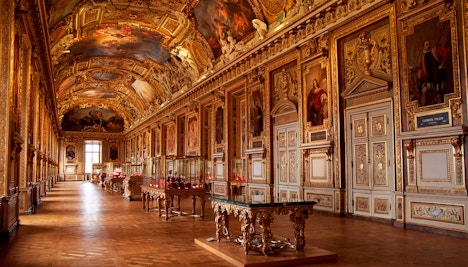 Apollo's Gallery
Step into Apollo's Gallery, adorned with breathtaking paintings, sculptures, and gilded ornamentation. The vaulted ceiling features Apollo, the sun god, in a splendid chariot surrounded by celestial figures. This room embodies the pinnacle of French Baroque artistry.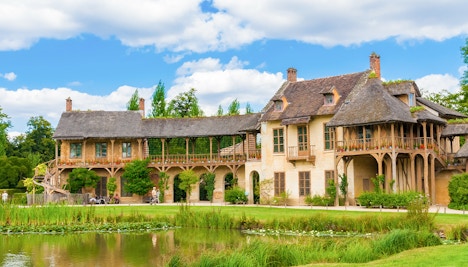 Marie Antoinette's Hamlet
Escape to the pastoral idyll of Marie Antoinette's Hamlet, a whimsical retreat on the palace grounds. This rustic village, complete with cottages, gardens, and a mill, was the queen's peaceful haven, contrasting the opulence of the court.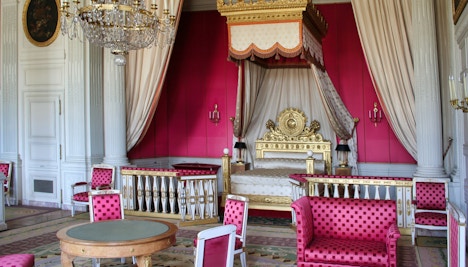 The Royal Apartments
Explore the sumptuous Royal Apartments, where the kings and queens of France resided. Admire the ornate décor, intricate furniture, and elegant private chambers, offering insight into the regal lifestyle of past monarchs.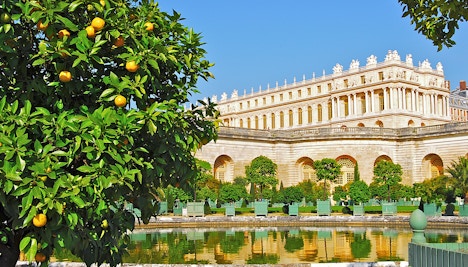 The Orangerie
Stroll through the impressive Orangerie, a massive greenhouse housing a remarkable collection of citrus trees. The beauty of the citrus garden and the architectural elegance of the building make it a serene and refreshing spot to visit.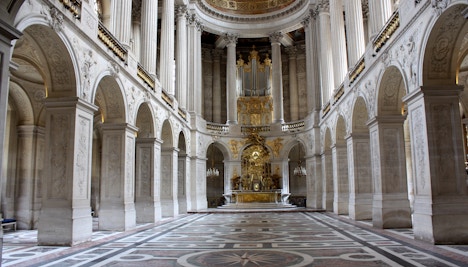 The Royal Chapel
Experience divine beauty in the Royal Chapel, a stunning example of French Baroque architecture. Adorned with exquisite sculptures and a resplendent altar, it served as a sacred space for royal ceremonies and worship.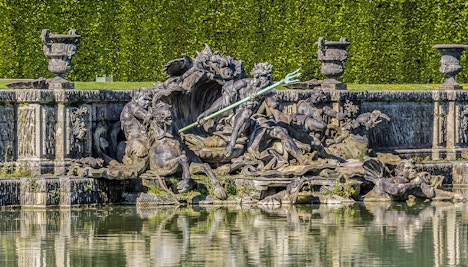 The Neptune Fountain
Be enchanted by the Neptune Fountain, an awe-inspiring sculpture adorning the gardens. This massive masterpiece depicts the sea god Neptune surrounded by nymphs and cherubs, celebrating the grandeur of Versailles' garden design.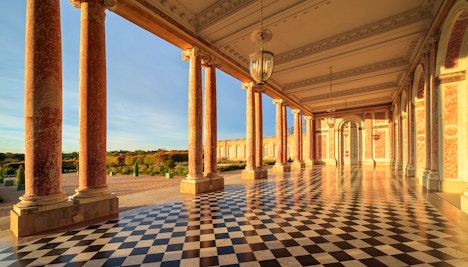 The Grand Trianon
Discover the elegance of the Grand Trianon, a small palace for the king to escape the rigors of court life. The pink marble facades and exquisite interiors create a refined and tranquil ambiance.
Who Built Versailles?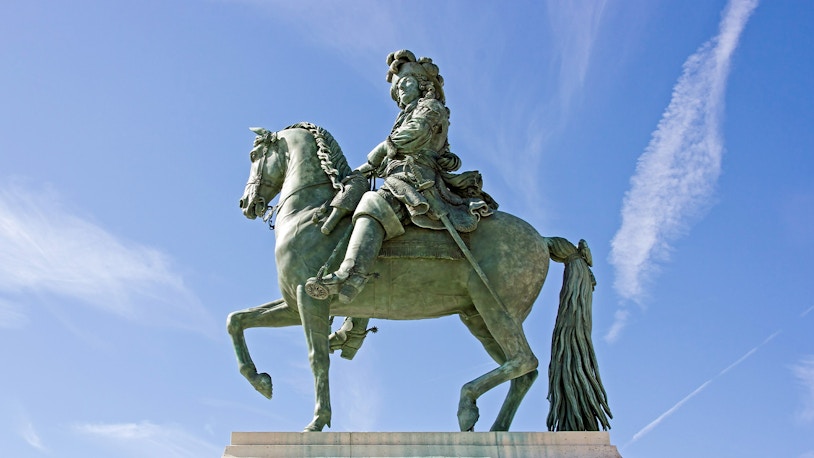 Versailles, originally a hunting lodge, was built in 1624 by King Louis XIII. However, the grand transformation into the magnificent Palace we know today occurred when King Louis XIV, the Sun King, chose Jules Hardouin-Mansart as the chief architect for the expansion in 1682. Mansart's vision gave birth to the iconic Hall of Mirrors, adorned with 17 arched mirrors and opulent chandeliers. This architectural virtuoso embraced the Baroque style, infusing Versailles with intricate details and breathtaking grandeur. His enduring legacy extends to other masterpieces within the palace grounds, including the stunning Grand Trianon and the Église du Dôme. The collaborative efforts of these creative minds cemented Versailles as a timeless symbol of French power and artistic brilliance.
Additional Information on Versailles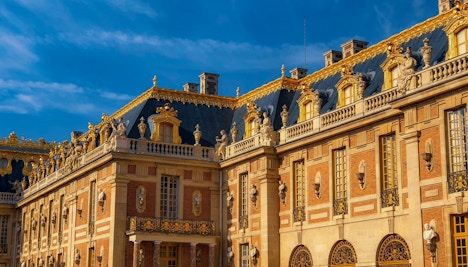 UNESCO World Heritage Site
Versailles was declared a UNESCO World Heritage Site in 1979, recognizing its cultural significance and outstanding universal value. As a visitor, you can expect to immerse yourself in a living testament to French history and art, strolling through the grand halls, admiring masterful works, and exploring the breathtaking gardens.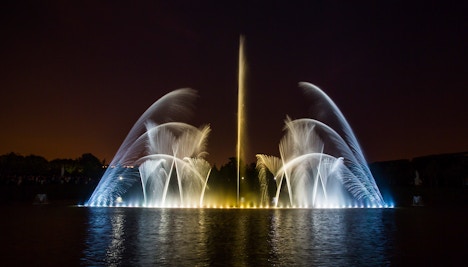 Musical Fountain Show
If you visit during the summer, don't miss the magical Musical Fountains Show! Witness the gardens come alive with synchronized water displays enhanced by classical music, creating a sensory spectacle that will leave you enchanted.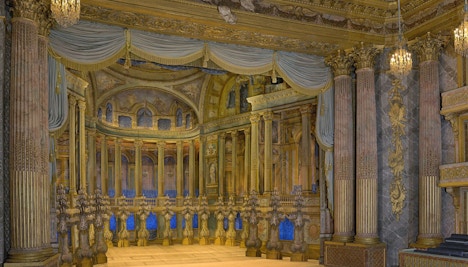 The Royal Opera House
Step into opulence at the Royal Opera House, a hidden gem within Versailles. This breathtaking 18th-century theater, impeccably restored, hosts occasional performances, allowing you to experience the elegance and acoustics that once graced the French court.
Book Your Versailles Tickets
Frequently Asked Questions About Versailles
It's a historic palace-turned-museum in France, symbolizing French opulence.
Versailles is located in Île-de-France, 20 km southwest of Paris.
Why should I visit Versailles?
You must visit Versailles to experience French history, art, grand architecture, and enchanting gardens.
How do I book tickets to Versailles?
You can book tickets for Versailles online for better convenience.
What are Versailles Palace's opening hours?
Versailles Palace's opening hours are from 9 AM to 6:30 PM from Tuesday to Sunday.
What are the highlights of visiting Versailles?
Hall of Mirrors, art collection, gardens, Trianon Estate, etc., are all the best highlights of Versailles.
Is photography allowed inside Versailles?
Yes, but no flash photography to preserve the artwork.
Are guided tours available at Versailles?
Yes, guided tours are available for Versailles, providing insightful commentary and context.
Can I explore the gardens separately from the Palace?
Absolutely! The gardens are a separate attraction and can be explored on their own.
What is the best time to visit Versailles to avoid crowds?
Early mornings or weekdays are less crowded, especially during peak tourist seasons.
Is there a dress code to visit Versailles?
While there isn't a strict dress code, dressing modestly and comfortably is recommended.
How much time should I allocate for a visit to Versailles?
Plan at least half a day to thoroughly explore the Palace, gardens, and Trianon Estate.
Is Versailles accessible for people with mobility issues?
While some areas may be challenging, Versailles offers facilities and access for visitors with mobility concerns.